Job Description
Real Estate Appraiser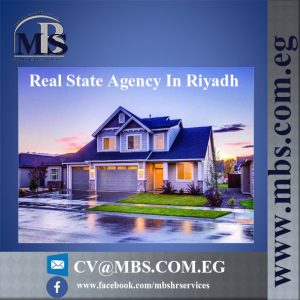 For a very prestigious Real State agency in Riyadh in KSA sponsored by MBS recruitment & HR service is seeking for :
# Real Estate Appraiser #
Job Summary
Valuating and apprising commercial or residential properties according to Saudi Authority of Accredited Values standards. The major duties of a real estate appraiser include preparing reports on a property's value, pricing and calculating property and working on legal descriptions and data regarding multiple real estate properties. Conducting formal appraisals of real property or land before it is sold, mortgaged, taxed, insured, or developed.
Job Duties:
-Evaluate properties to establish market values
-Examine all variables that impact property's present or future value
-Assign the prefect pricing strategy according to measures and standards.
-Prepare reports
-Document procedure and backup data.
-Keep up-to-date with all current regulations, standards and best practices
-Assess the activity in the current market, and analyze comparable sales data
-Measure and record land dimensions, and prices.
-Advise clients on effective strategies, assisting them with sales till the end.
– Instruct clients on the cost-effective methods
Core Competencies:
-Education: Bachelor degree in Business administration, Economic, or Finance
– 3 to 5 years of experience of related experience
-Valuation course is a must " SAAV"
-Fluent in both English
-Outgoing and intelligent
-Residential or commercial experience is preferred
Compensations and Benefits
-Annual wage payable
-21 days Annual Vacation
-Yearly Ticket
– Medical Insurance Coverage
– Performance incentive payable
Please send your CV TO :
Facebook :  https://www.facebook.com/mbshrservices
Required skills
Other jobs you may like